There are a couple of ways to capture what's on your smartphone screen. The most obvious is a screenshot, but sometimes that doesn't cut it, and you need to capture more than just a still image of a funny video or moment. That's where screen recording comes in, and it's a great tool to give more context to the moments on your phone.
On Samsung phones, it's easy enough to capture a screenshot since you can just utilize a quick button combination. However, you can't do the same with screen recordings, making the process a little more involved. Fortunately, it's still easy enough and only requires a couple of swipes and taps.
How to use the screen recorder on a Samsung Galaxy phone
1. Swipe down twice from the top of the display to open your quick settings.
2. Locate "Screen recorder" and tap it.
Note: If Screen recorder is not in your quick settings, you can select the three-dot menu in the top right corner to edit the buttons and add it to your quick settings.
3. Confirm your recording settings. You can set the audio source and whether you want the recording to show taps visually in the recording.
4. Tap Start recording.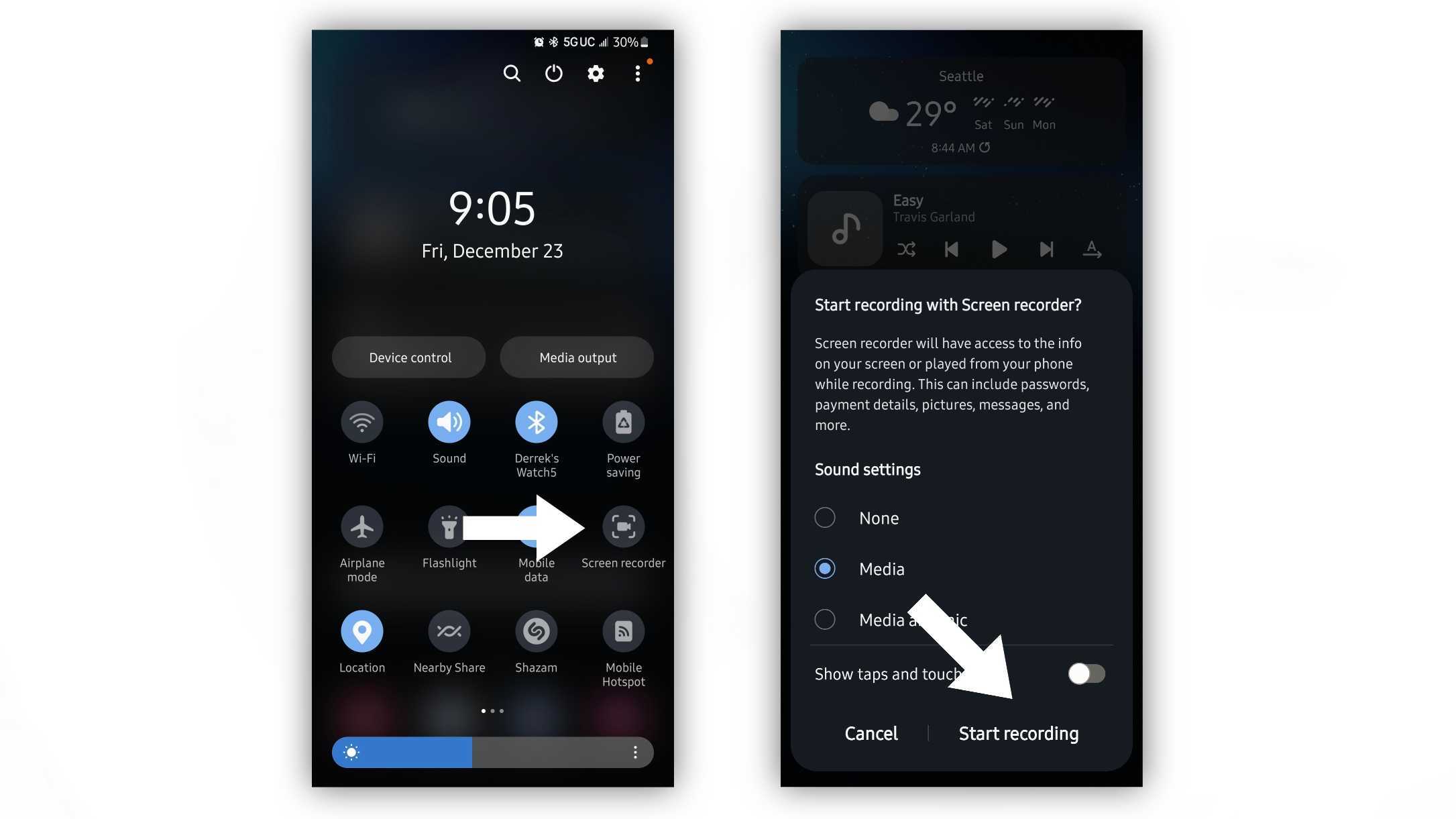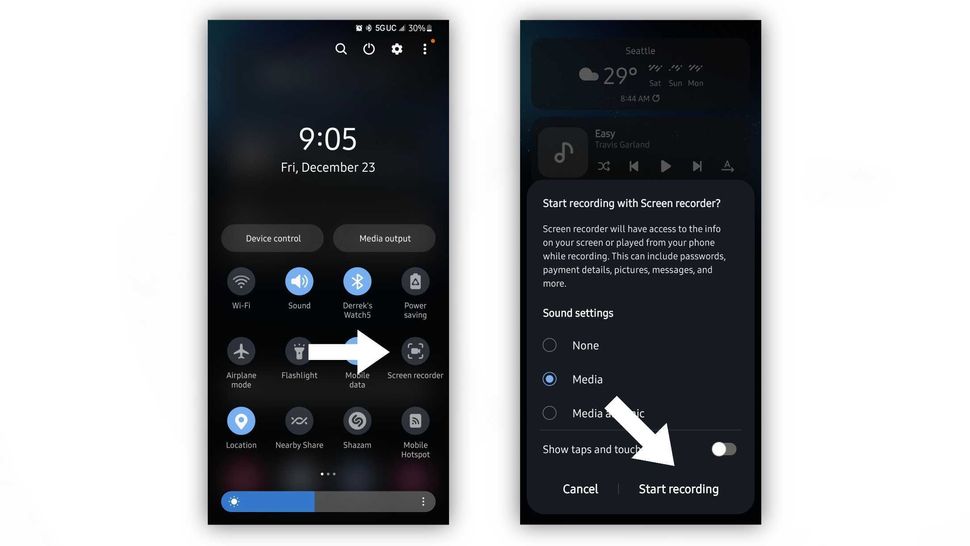 5. Wait for the countdown to end or select "Skip countdown" to start recording.
6. Record your clip. You can pause the recording using the Pause button in the menu bar in the top right corner.
7. When finished, tap the Stop button in the menu bar.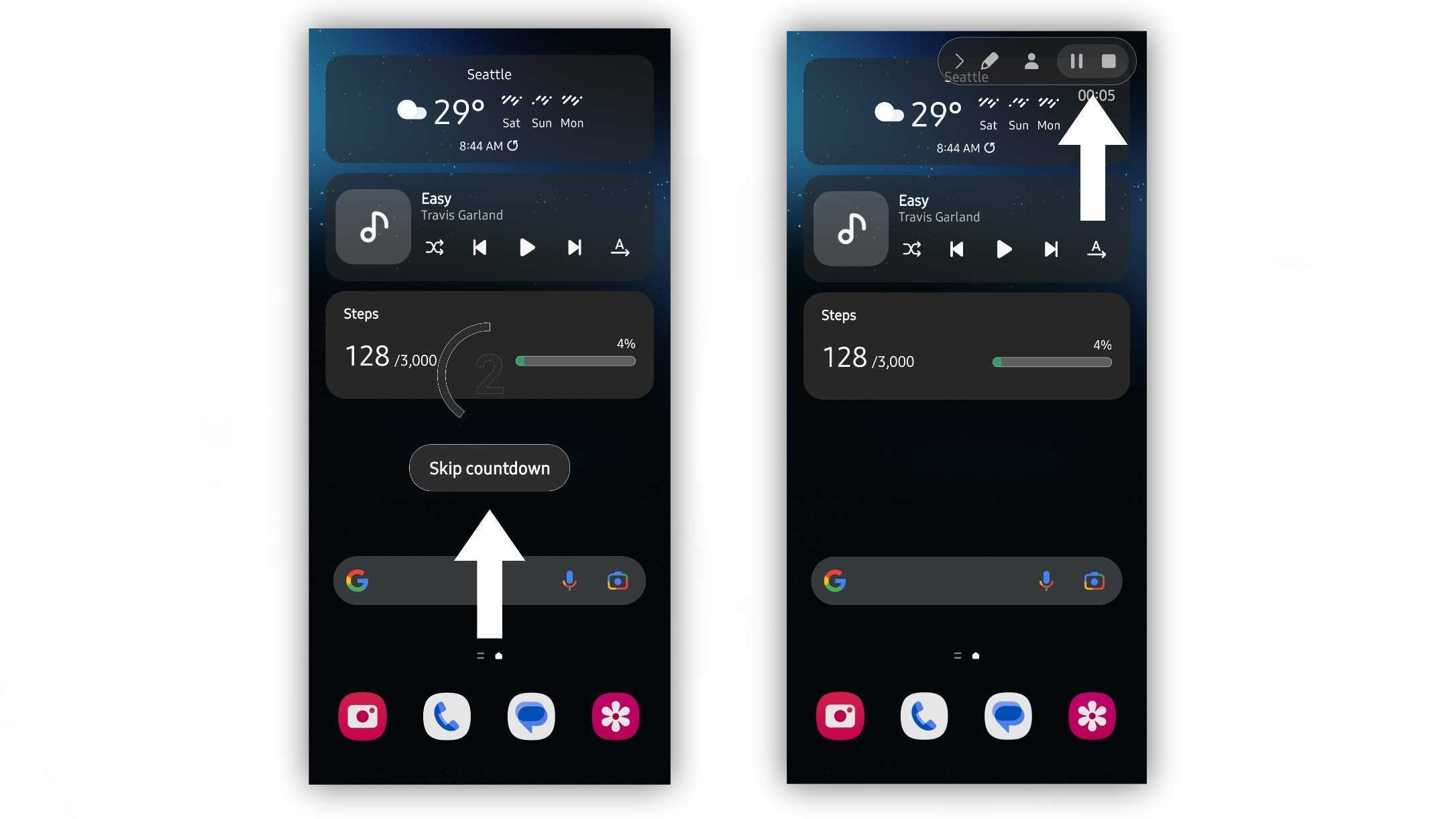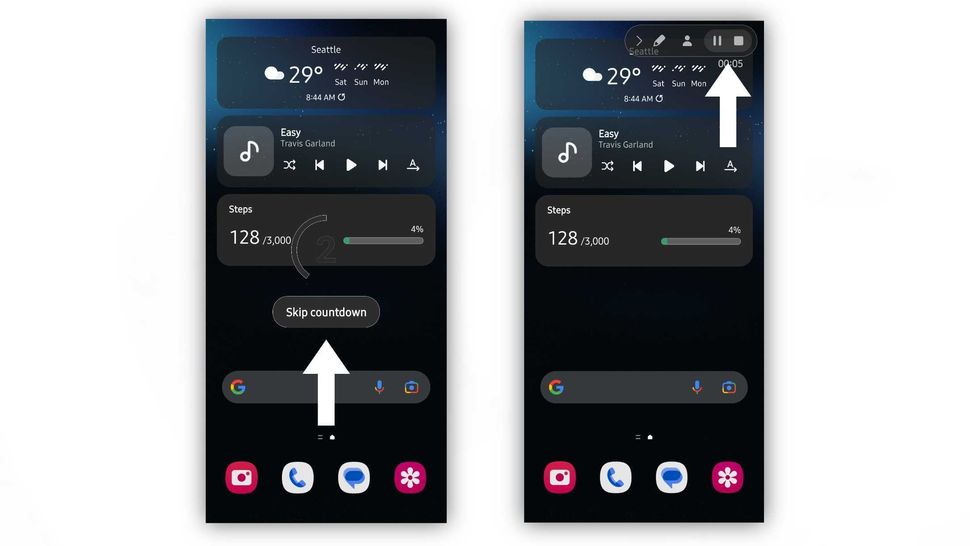 When you stop the recording, the phone will automatically save it. You'll be notified that the recording has been saved in your gallery. You can click the notification to view it, or select from the options to share, edit, or delete the recording.
How to manage screen recording settings
Before you start a recording, your Galaxy phone always presents you with a few quick options. However, you can access even more settings to enhance your screen recordings.
You can access these settings by pressing and holding the Screen recorder button in the quick settings menu. Alternatively, you can navigate to Settings > Advanced features > Screenshots and screen recorder.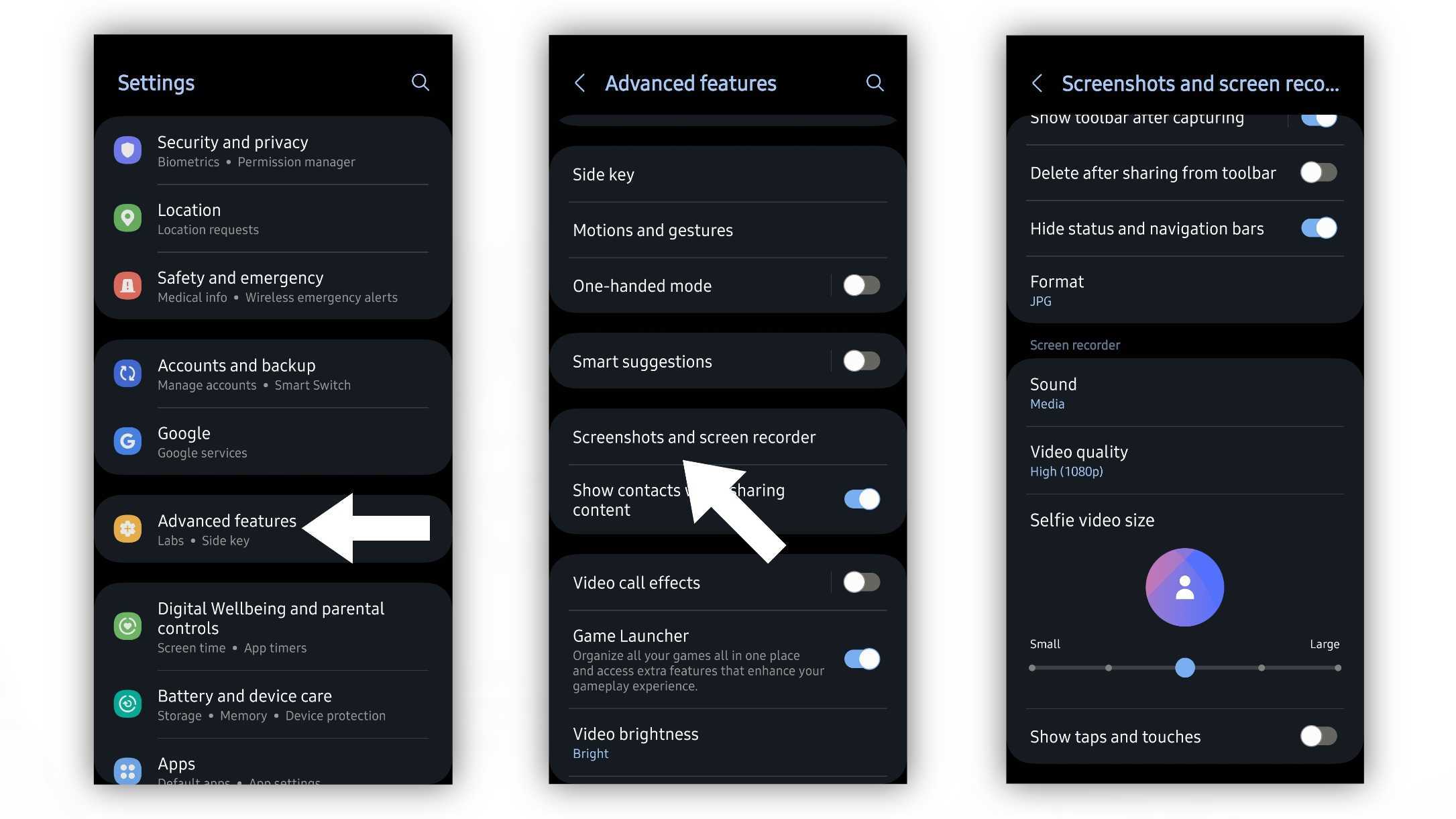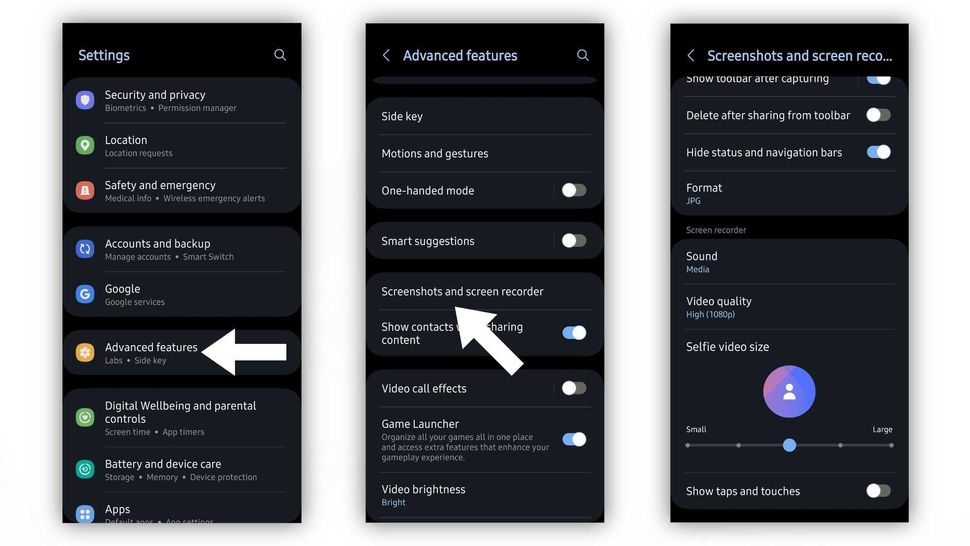 Sound: Set the default audio source when screen recording. This can be set to None, Media, or Media and Mic.
Video Quality: Set the video resolution of your screen recordings. Choose between Low (480p), Medium (720p), and High (1080p).
Selfie video size: Choose how big you want your selfie video. This can be enabled from the floating menu during a screen recording.
Show taps and touches: Choose to show taps and touches by default.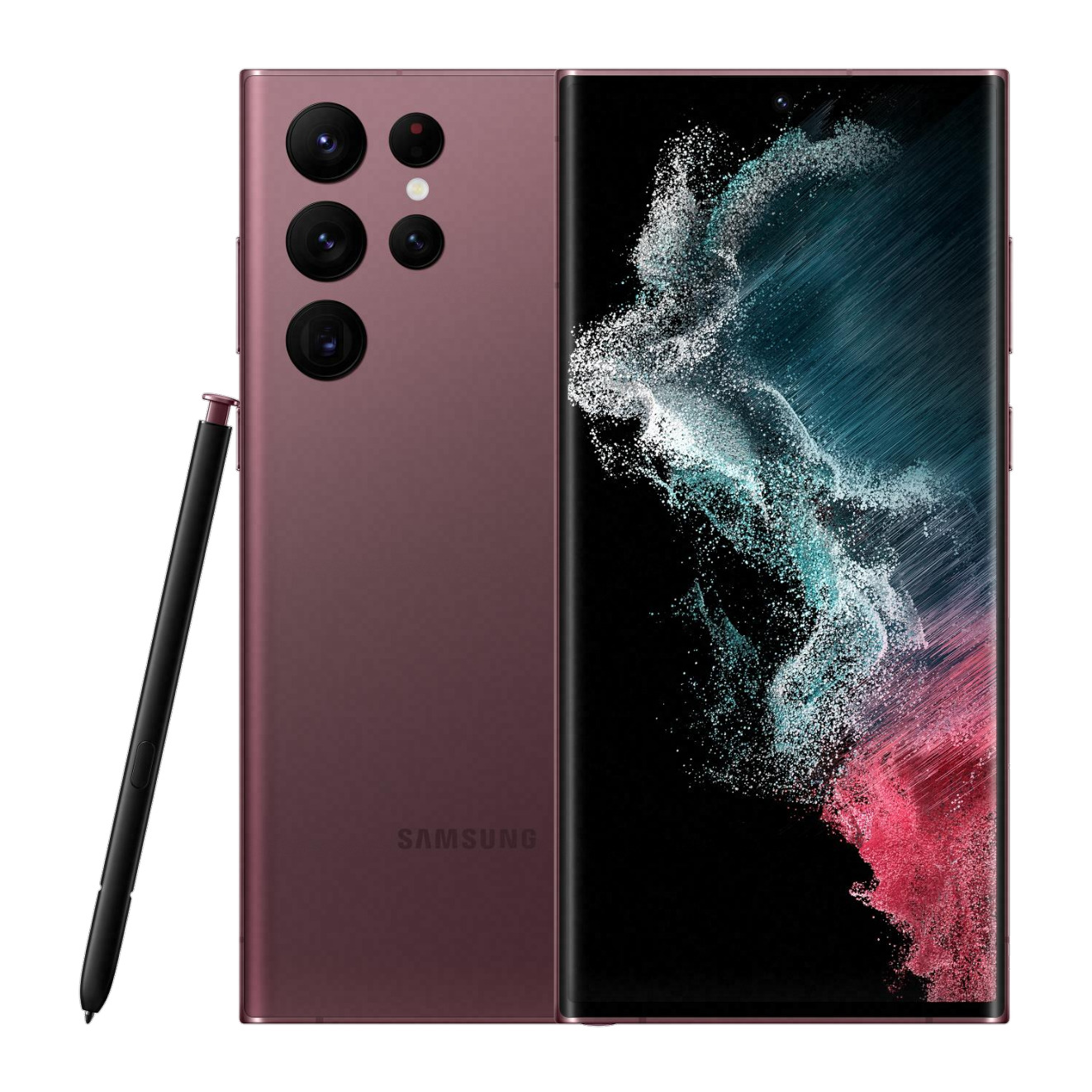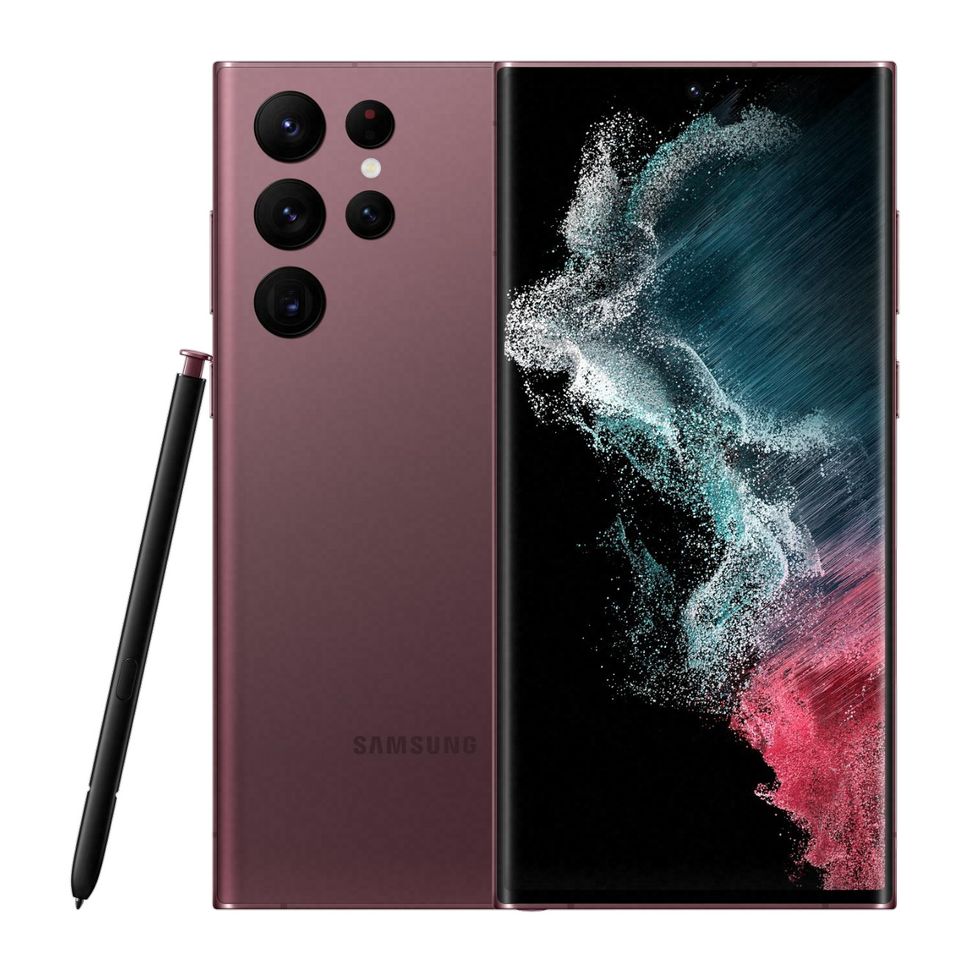 Miss the Galaxy Note? Well, you don't have to with the Galaxy S22 Ultra. It comes with a sleek design, a large 120Hz display, and a built-in S Pen for all your artistic and productivity needs.