What you need to know
January 2023 security patch causes problems for Google Pixel 6 and Pixel 7 series devices.
The phones are having problems connecting via Bluetooth with their vehicles after the latest update.
Users have not been able to connect with cars from Kia, Hyundai, Toyota, Honda, Infiniti, Volvo, Subaru, Mazda, and Ford.
Two parts of Google's ecosystem are at odds with its most recent smartphone security update.
The past few days have been filled with Reddit users creating threads to voice issues with the January 2023 security patch and Bluetooth connectivity in their cars (via Android Police). With the latest update, Pixel 7 and Pixel 6 series phones refuse to pair with Android Auto for music playback and other features while on the road.
It's caused some frustration, with one Reddit user stating they've factory reset the system in their car, reset network settings, and even restarted their phone to no avail. It was also found that the user's car would pair with other phones, and their phone would pair with other vehicles, as well.
Other users in the thread commented that their phone would briefly connect before providing an error message and disconnecting. Users continue to chime into the conversation, stating that the problem appears to affect Kia, Hyundai, Toyota, Honda, Infiniti, Volvo, and Subaru vehicles.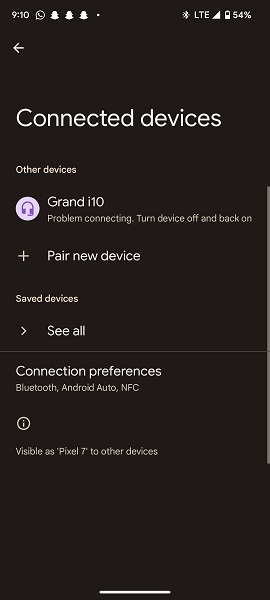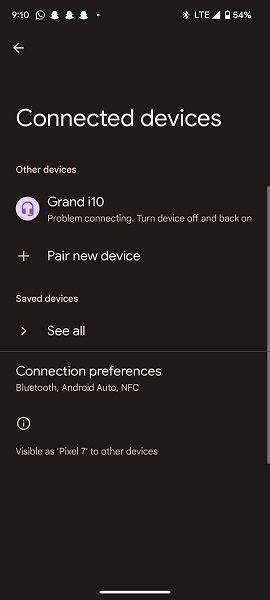 While user reports primarily mention those vehicles (with some mentioning Mazda and Ford, too), it's not every single model from these car makers. Apparently, some owners of a 2012 Hyundai and 2015 Kia are having no problems at all with the January 2023 security patch and their Pixel.
Google started rolling out its January 2023 security patch to eligible Pixel phones three days ago. While the update is light, the patch did bring some fixes to Bluetooth specifically. The company was looking at rectifying some problems with Bluetooth devices not receiving audio as well as some low-energy devices being unable to pair with your phone. It looks like somewhere in these Bluetooth fixes is the current problem drivers have been facing for the past few days.
Considering this is most likely an issue with the software, another patch to address this will most likely be required. People have contacted Google Support about the issue but have received no response as of yet. If you've yet to update your Pixel 6 series device or Pixel 7 series phone with the January 2023 patch, it may be best to avoid doing so until Google properly addresses it.
Android Central has reached out to Google about the latest issue caused by the most recent security patch but has not received word back in time for publication.